So it seems that I need more room for crafting and less for sewing nowadays. The sewing machine has been put up for a while so I have some fun with some old friends. I forgot how much fun I can have with some papers, glues, paints and the like. Here lately I have been really getting into stamping, mixed media and painting.
So it was time to reconfigure the craft room I did not take the quilts down as they remain my part of my family, but will be putting up some of my other stuff soon. I am amazed how much room I have with the sewing stuff all put away. After I took these pics below, I even put away my ironing board and brought out a table to sit at. It is totally lovely to be able to sit and stamp, paint and the like.
Here is the room now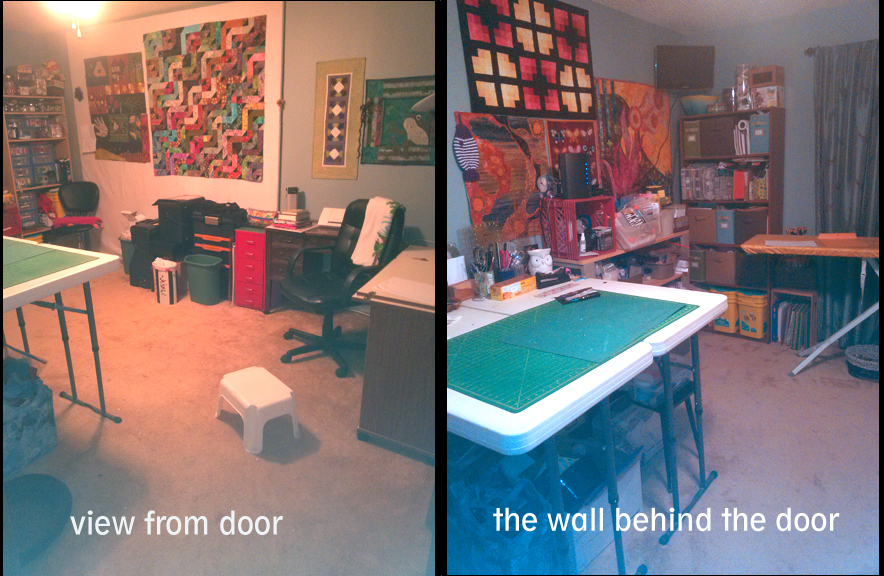 As you can see there is still a lot of sewing stuff around. I just have other things in front of it. Also I can still work on my hand embroidery and on my crazy quilting as all that stuff is easy to get to. It is the machine embroidery and fabric items that are behind tables and shelves.
I know that sooner or later I will be returning to these things and they will be waiting there for me. Just like we go through stages in our lives and we also go through times when different things appeal to us. I like to think that means I am well rounded, and not just physically, ha.
Currently, it is the artsy part of me that is getting the attention and fun while, for the past five years it was the traditional quilter that was getting stoked. By paying attention to all parts of our lives I feel we maintain our mental health and are able to deal with what life throws at us.
I like to think of my craft room as a reflection of my mental health. It seems that when I am starting a new project it is clean and relatively neat. My mind is in decision making mode, business like and efficient. Then when in the middle of the project the mess begins and towards the end things are strewn all over the room. My mind and focus are entirely on the project. Actually, my mind cannot seem to focus on anything BUT the project and all the myriad details that go into it. Then when the project is down, I walk it down the hall to show my husband and all is well. He gives his approval (he has been trained well in that department -ha, ha) and then I go back to the craft room and clean up.
When the day comes that I cannot work in my craft room, I will be at a loss. I hope there will be something around to pick up the slack. I believe all will be OK if I judge from past history. Cause see I go through phases and move on.